We just returned home following an action-packed week of filming a couple episodes of Swarovski Optiks Quests with the Eyes of a Hawk television show. Hosted by Bruce Smetana of Crossheart Outfitters in Montana, the late season elk hunting was tough but we did manage to fill a few tags. Heather took her first bull elk at an impressive 628 yards using an HS Precision 7mm Rem Mag topped with a Swarovski Z6i 2.5-15x with a BRH reticle. Show Host, and Swarovski Optik North America (SONA) Communications Director Dean Capuano took a bull at 540 yards, and SONA staff member Rob Lancellotti took a nice mule deer scoring 176 B&C. Our group consisted of Dean, Rob, Heather, myself, Rachel Ahtila, and two cameramen David Abbott and Danny Kirsic.
That's a wrap! The traditional group jump to celebrate the end of the shoot. From left to right - David Abbott, Kevin Wilson, Dean Capuano, Rachel Ahtila, Rob Lancellotti, Heather Wilson, Kevin Settle (Guide), and Bruce Smetana (Outfitter).
Heather and her guide Kevin
Heather's first-ever bull elk.
Renowned videographer David Abbott at work filming for Swarovski's Quests with the Eyes of a Hawk TV show.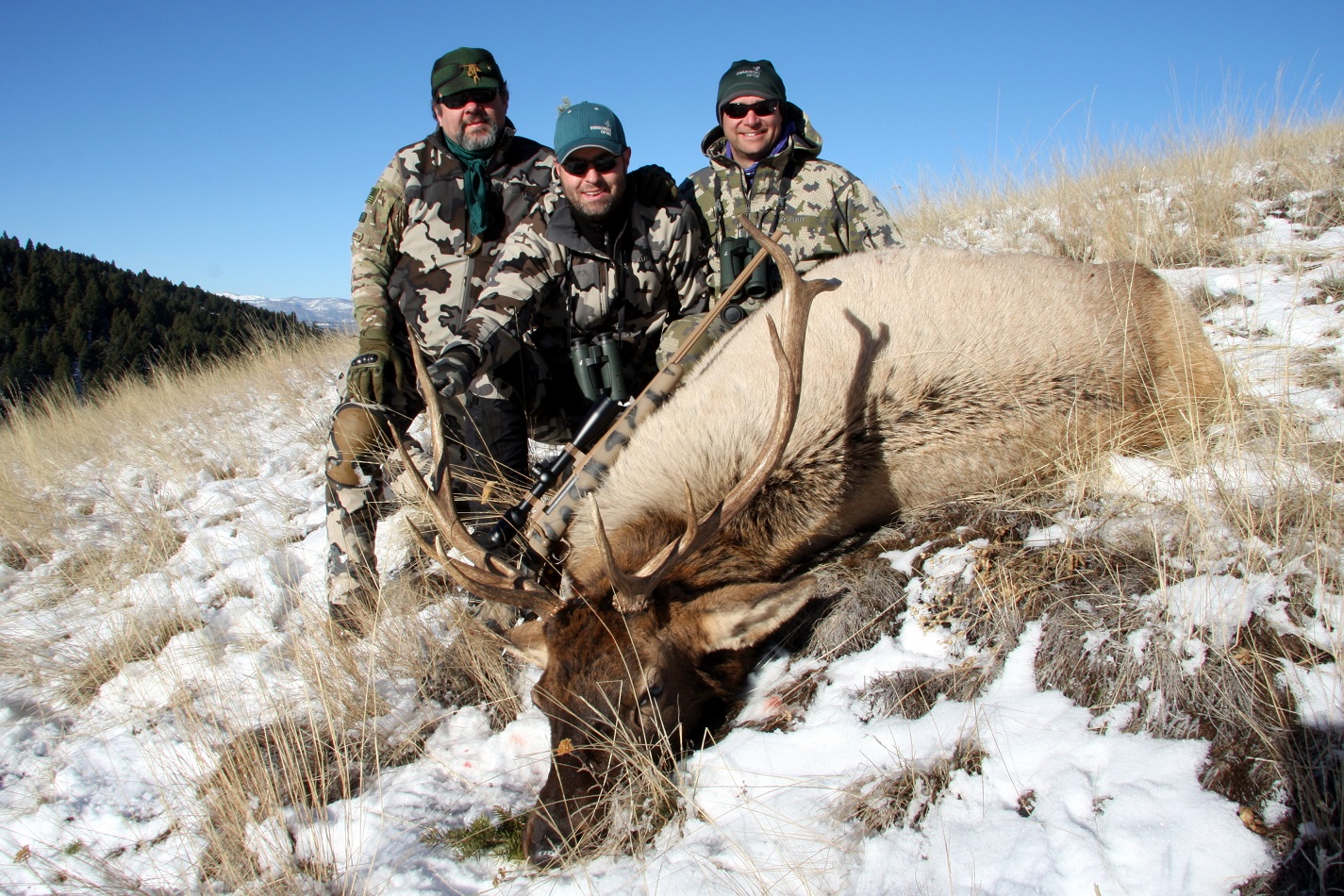 Bruce and Kevin celebrating with Dean.
Hours and hours glassing for elk
Rob with his 176 mule deer - he was the only one in our group to draw a tag.
Heather and Rachel chillin' in the wall tent.